After receiving the box from Fuji, the first things that I noticed were the nice box and the fine design of the camera.
Here is a link to Fuji's website to get more information on the camera as well–>
http://www.fujifilmusa.com/products/digital_cameras/x/fujifilm_x10/specifications/
and the contents are quite inclusive of most things that would be needed to begin using the camera.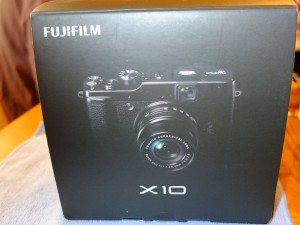 Once I had the camera out of the box I was quite impressed by its' feel in the hand, as well as its inherent quality and how nicely it is designed.
quasl
I found that the Fujifilm X10 appears to be designed with the enthusiast or pro-sumer or even a professional; the type of user who prefers the solid feel of a magnesium alloy body and its feel in the hand as it is being used. It has the controls normally found on an SLR, rather than a point and shoot camera. It would make a great back up camera for a professional where they do not want to lug a large slr around with them. It would also be a great primary camera for many less experienced or advanced consumers too.
The LCD controls are easy to use, and easy to read even at the age of 44 I can read them and use them clearly. I like the real viewfinder that the camera has as well. Sometimes the photo is best shot through the viewfinder rather than trying to use the screen all of the time.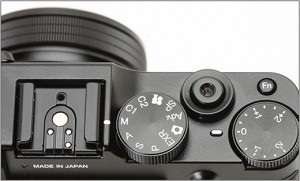 I like the built in flash, and the metal lens cap as well as the lens and its' design. The camera reminds me of the Nikon P7200 series as well as the Canon G15 camera. It also would be a great alternative to the mirror less and 4/3's cameras available on the market as well.
The only feature that I would like to have seen on the camera that was not present is a power switch, the camera is powered on by turning the camera lens to the on position which is unique and quite nice once I was use to it.
Here are a couple of preliminary images that I shot with the camera.
So Far I am impressed by the Fuji 10 Camera. I will post a follow up review of the camera once I have used it a bit more, as well as some outdoor/landscape samples, close ups and video samples taken with the camera and some long term opinions as well. I will also be using it at a trade show tomorrow and will report on its usability for that purpose as well. I will also show some of the videos taken with it as well.
Your Editor, David J. Berkowitz
Specifications from Fujifilm USA's Website–>

Model Name X10
Number of effective pixels*1 12.0 million pixels
Image sensor 2/3-inch EXR CMOS with primary color filter
Storage media
SD / SDHC / SDXC(UHS-I) memory card*2
File format
still image
JPEG (Exif Ver 2.3)*3, RAW (RAF format), RAW + JPEG
(Design rule for Camera File system compliant / DPOF-compatible)
movie
H.264 (MOV) with Stereo sound
Number of recorded pixels L : (4:3) 4000 x 3000 / (3:2) 4000 x 2664 / (16:9) 4000 x 2248 / (1:1) 2992 x 2992
M : (4:3) 2816 x 2112 / (3:2) 2816 x 1864 / (16:9) 2816 x 1584 / (1:1) 2112 x 2112
S : (4:3) 2048 x 1536 / (3:2) 2048 x 1360 / (16:9) 1920 x 1080 / (1:1) 1536 x 1536


360° Vertical 11520 x 1624 Horizontal 11520 x 1080
180° Vertical 5760 x 1624 Horizontal 5760 x 1080
120° Vertical 3840 x 1624 Horizontal 3840 x 1080
Lens
name
Fujinon 4 x optical zoom lens
focal length
f=7.1 – 28.4 mm, equivalent to 28 – 112 mm on a 35 mm camera
full-aperture
F2.0 (Wide) – F2.8 (Telephoto)
constitution
9 groups 11 lenses (3 aspherical glass molded lenses included)
Digital zoom Intelligent digital zoom (approx. 2X)
Aperture F2.0-F11(Wide)
F2.8-F11(Telephoto) 1/3EV step (controlled 7-blade aperture diaphragm)
Focus distance
(from lens surface)
Normal
Wide : Approx. 50 cm / 1.6 ft. to infinity
Telephoto : Approx. 80 cm / 2.6 ft. to infinity
Macro
Wide : Approx. 10 cm – 3.0 m / 0.3 ft. – 9.8 ft.
Telephoto : Approx. 50 cm – 3.0 m / 1.6 ft. – 9.8 ft.
Super Macro
Approx. 1.0 cm – 1.0 m / 0.4 in. – 3.3 ft
Sensitivity Auto / Equivalent to ISO 100 / 200 / 250 / 320 / 400 / 500 / 640 / 800 / 1000 / 1250 / 1600 / 2000 / 2500 / 3200 / 4000* / 5000* / 6400* / 12800* (Standard Output Sensitivity)
* ISO4000 / 5000 / 6400 : M mode or lower, ISO12800 : S mode
Exposure control TTL 256-zones metering, Multi / Spot / Average
Exposure mode Programmed AE, Aperture Priority AE, Shutter Priority AE, Manual
Shooting modes
SP
Natural Light, Natural Light & Flash, Portrait, Portrait Enhancer, Landscape, Sport, Night, Night (Tripod), Fireworks, Sunset, Snow, Beach, Party, Flower, Text, Underwater
MODE DIAL
EXR, AUTO, P, S, A, M, C1, C2, Movie, SP, Adv.
Image stabilizer Lens shift type
Face detection Yes
Exporsure compensation -2.0EV – +2.0EV 1/3EV step
Shutter speed (Auto mode) 1/4 sec. to 1/4000* sec., (All other modes) 30 sec. to 1/4000* sec.
* 1/4000 sec. at small aperture, 1/1000 sec. at full aperture
Continuous shooting
TOP
Super High : approx. 10 fps (Size M, S)
High : approx. 7 fps (Size L, M, S)
Middle : approx. 5 fps (Size L, M, S)
Low : approx. 3 fps (Size L, M, S)
*SD memory card with a class 4 write speed (4 MB/sec.) or better is recommended.
*Maximum frame number for each continuous shooting mode is limited.
others
Best Frame capture :
Super High : approx. 10 fps 8 / 16 frames (Size M, S)
High : approx. 7 fps 8 frames (Size L, M, S) / 16 frames (Size M, S)
Middle : approx. 5 fps 8 frames (Size L, M, S) / 16 frames (Size M, S)
Low : approx. 3 fps 8 frames (Size L, M, S) / 16 frames (Size M, S)
Auto bracketing AE Bracketing : ±1/3EV, ±2/3EV, ±1EV
Film Simulation Bracketing : PROVIA / STANDARD, Velvia / VIVID, ASTIA / SOFT
Dynamic Range Bracketing : 100%, 200%, 400%
ISO Sensitivity Bracketing : ±1/3EV, ±2/3EV, ±1EV
Focus
mode
Single AF / Continuous AF (EXR AUTO, Movie),
Manual AF (One-push AF mode included)
type
TTL contrast AF, AF assist illuminator available
AF frame selection
Multi, Area, Tracking
White balance Automatic scene recognition
Preset : Fine, Shade, Fluorescent light (Daylight), Fluorescent light (Warm White), Fluorescent light (Cool White), Incandescent light, Underwater, Custom, Color temperature selection
Self-timer 10 sec. / 2 sec. delay
Flash Auto flash (super intelligent flash)
Effective range : (ISO AUTO (800))
Wide : Approx. 50 cm – 7.0 m / 1.6 ft. – 22.9 ft.
Telephoto : Approx. 80 cm – 5.0 m / 2.6 ft. – 16.4 ft.
Flash modes Red-eye removal OFF : Auto, Forced Flash, Suppressed Flash, Slow Synchro.
Red-eye removal ON : Red-eye Reduction Auto, Red-eye Reduction & Forced Flash, Suppressed Flash, Red-eye Reduction & Slow Synchro.
Hot shoe Yes
Viewfinder Optical zoom viewfinder
Approx. 85% coverage
Diopter adjustment : -3.5 – +1.5 m-1(dpt)
LCD monitor 2.8-inch, approx. 460,000 dots, TFT color LCD monitor, approx. 100% coverage
Movie recording 1920 x 1080 pixels / 1280 x 720 pixels / 640 x 480 pixels (30 frames / sec.) with stereo sound
Optical zoom (manual) can be used.
Photography functions EXR mode (EXR Auto / Resolution priority / High ISO & Low noise priority / Dynamic range priority), Face recognition, Face Detection, Auto red-eye removal, Film simulation, Framing guideline, Frame No. memory, Histogram display, Best frame capture, Advanced mode (Motion panorama360, Pro focus, Pro low light), High Speed Movie (70 / 120 / 200 frames/sec.), Electronic level, One-touch RAW, Advanced Anti Blur
Playback functions Face Detection, Auto red-eye removal, Multi-frame playback (with micro thumbnail), Protect, Crop, Resize, Slide show, Image rotate, Voice memo, Histogram display, Exposure warning, Photobook assist, Image search, Favorites, Mark for upload, Panorama, Erase selected frames, RAW conversing
Other functions PictBridge, Exif Print, 35 Languages, Time difference, Silent mode
Terminal
Video output
NTSC / PAL selectable with Monaural sound
Digital interface
USB 2.0 High-Speed
HDMI output
HDMI Mini connector
Power supply NP-50 Li-ion battery (included)
CP-50 with AC power adapter AC-5VX (sold separately)
Dimensions 117.0(W) x 69.6(H) x 56.8(D) mm / 4.6(W) x 2.7(H) x 2.2(D) in.
Weight Approx. 350 g / 12.3 oz. (including battery and memory card)
Approx. 330 g / 11.6 oz. (excluding battery and memory card)
Operating Temperature 0°C – 40°C
Operating Humidity 10% – 80% (no condensation)
Accessories included Li-ion battery NP-50
Battery charger BC-45W
Shoulder strap
Lens cap
USB cable
CD-ROM
Owner's manual
Optional accessories Li-ion battery NP-50
Battery charger BC-45W
A / V cable AV-C1
Lens hood LH-X10
Leather case LC-X10
Shoe Mount Flash EF-42 / EF-20
AC power adapter AC-5VX
DC coupler CP-50