I had the fine opportunity to meet Xshot at CES 2013. I was impressed by their products, which are simple but effective.
Here is link to a bit more information on XSHOT–>http://xshot.com/products/xshot-2
A bio on the Company–>
During a trip to France, Michael Daoud, the co-founder of XShot, found it difficult to take pictures of him and his wife while sightseeing. Michael would hold the camera and extend his arm as far as possible to take a picture of he and his wife but the result was always disappointing, especially if they were trying to capture the background in the picture.

The idea for the XShot came to Michael when he was at a park in front of the famous Louvre Museum in Paris. Michael tried to capture a photo of him and his wife with the Louvre in the background but because the camera was only at arm's length and so close to their faces, only a small part of the Louvre Museum was in the picture. Michael realized that if his arm was a little longer he could take much better pictures. As a result he came up with the idea of having a telescopic arm that could hold the camera and be extended to take a full picture of the subjects and the background.

Michael enlisted the help of his friend John Stump, an inventor and mechanical engineer, and XShot was born. With XShot, taking a self-portrait looks like someone else took the picture, especially because of the extended 37 inches of reach it provides. It's just amazing! Every time Michael and John tested XShot with their families they were amazed at the great results.

They knew that other travelers such as themselves would love having an XShot along with them whether traveling around the world, hiking, out on a boat, or simply at home with the family. No more close-up mug shots, hello XShot!

Since 2008 Michael and John kept thinking about new ways to get people in their shots and came up with new products: a 2.0 version of the original camera extender, a compact version with the Pocket XShot, XShot iPhone cases with tripod adapters for smartphone photo and video and a kayak mount.
I had recent opportunity to test the Xshot 2.0
Here are some videos with regards to the Xshot 2.0 with the Help of Youtube:
Intro video # 1 about Xshot's Products–>
A second video with regards to Xshot's products–>
Finally A video that I did with regards to the Xshot 2.0–>
In regards to the Xshot 2.0 I found it to quite an effective product. It would come in handy for taking small group pictures while on vacation or at a trade show. It could also be used by an individual and an object such as the Statue of Liberty, or with a celebrity or a product or object that you want to photograph yourself near. In addition the Xshot 2.0 works great with video such as for a video blog or interviewing someone or talking about something that you want to share the shot with.
I like the solid design, the ability to shrink it down to around 9″ in length its' durability as well.
I did the demo with the Xshot 2.0 and a Samsung NX100 which was a wee bit heavy. I would recommend a lighter camera like the ReplayXD or a GoPro or a blogger cam or flip type camera, camcorder or a small point and shoot. I would not suggest using it with a Canon Rebel t2i though it is a superb camera it would be heavy. I would definitely recommend the Xshot 2.0 highly, and will try using mine and telling people about it as much as I can.
It could, it seem be used with a tripod to mount a remotely operated flash of for 2 camera angles as long as you have remote control of the shutter on your camera.
I appreciate the opportunity to have demoed the product.
Here are some product photos:
and another–>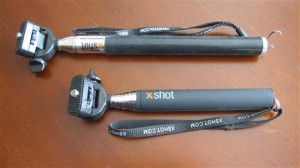 and a shot of the product packaging for those retailers out there–>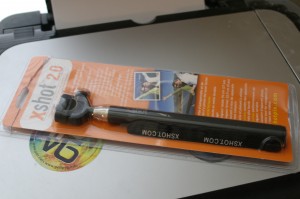 And a final shot from My Samsung NX100 and the Xshot 2.0–>