I was quite intrigued by Lenenovo's new business class 10″ tablet, along with their new consumer 5″, 7″ and 10″ tablets. Here are some images of the new 10″ business tablet.
1) Front View: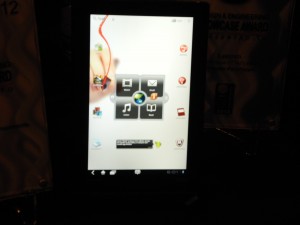 2) Side View: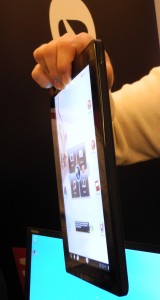 3) The nice selection of ports:
My first impressions of the tablet were very positive. I liked the design, it reminded me of the Amazon Kindle fire with more features, a camera on front and back and a larger size. I like how light it was in my hands as well as the nice display.
It was running Android OS 2.3, but was told by the Lenovo representative that an upgrade to Android Ice cream OS was pending soon.
Depending on the price point it could be a big seller. My hope is that sells it for $ 299 or $ 349.
It could prove to be a nice tablet for the education and business markets, especially for people with special needs.
More news from CES 2012 will be coming soon.